2014 Chinese Animal Zodiacs for Year of the Horse

2016 Chinese Astrology - Year of Fire Monkey

2016 Chinese Zodiacs - Year of Red Monkey
2014 Chinese Five Element Astrology for Year of Horse
100 Horses for 2014 Chinese New Year
Forbidden City Chinese New Year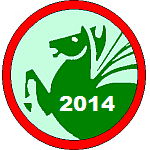 2014 is the Year of the Horse. 2014 Chinese New Year Day is on January 31, 2014. Chinese Astrology uses the cycle of 60 Stem-Branch calendar system to build the Chinese astrology birth chart. 2014 is the 31st Stem-Branch in the calendar cycle. That is Green Wooden Horse Year.
Chinese like Horses for many reasons. Horse provides a good and quick transportation for people before automobiles. Horse can give people a ride to their destination. Therefore, horse is not only a symbol of traveling, but also a sign of speedy success.
Horses like to compete with others. They pursuit for their freedom, passion and leadership. Therefore, people will have busy schedule for their goal in the year of Horse. In Chinese Five Element Astrology, Horse is connected to fire, red and heat. Also, horse is a social animal and red is also connected to love, therefore. horse is treated as a Romantic Star in Chinese Astrology.
Horse is intelligent animal. Horses need to be trained to become useful to human. Human can make Horse famous. Without human's guide, Horse just a wild animal. It doesn't know where to go. There is no destination in its life.
In Chinese Five Element theory, Horse is in the Fire group. Horse month is in the middle of summer. Horse is the strongest Fire animal in 12 zodiacs. 2014 is year of Wooden Horse. Wood can help Fire to burn. So Fire can last longer. When Horse meets Tiger and Dog, then they will form even stronger Fire. Too much Fire implies the hot temper and no patient. If the element of Fire is favorable to the person, then the person should have a good fortune in 2014. If Fire is unfavorable to the person, then 2014 will bring big trouble to the person. More information about Chinese Five Element astrology page is at 2014 Chinese Astrology - The Year of Green Horse.
Chinese Zodiac uses 12 animal signs to predict people's fortune. The twelve animals are Rat, Cow, Tiger, Rabbit, Dragon, Snake, Horse, Sheep, Monkey, Chicken, Dog and Pig. The 12 Chinese zodiac signs are determined by people's birth year. Most of Internet Chinese horoscope sites use Chinese New Year Day to determine the Chinese zodiac sign, which is wrong.
The first day of the Chinese astrological year is the first day of the Tiger Month (Start of Spring). The Tiger Month begins around February 4, each year. If you were born before February 4, then you should check Your Chinese Zodiac Sign first before reading your 2013 Chinese zodiac. The simplest way to prove Chinese zodiac signs not determined by Chinese New Year days is to see your Chinese Astrology Birth Chart using your birthday and birth time.
Besides using astrology animal signs and basic fighting and attraction relationships, Chinese zodiac also uses Chinese astrology constellations, which refers to the way ancient Chinese grouped the stars in the sky to predict the coming fortune. More than 100 stars are used in the Chinese zodiac. There are about 60 commonly used ones. Each star has a different characteristic. Basically, they can be divided into Lucky Stars and Unlucky Stars, which are the major factors to predict people good or bad luck in the coming year.
Click on your Chinese zodiac sign or birth year below to peek your fortune of Career, Money Love and Health in 2014, the year of Horse.
Rat
Cow
Tiger
Rabbit
Dragon
Snake
Horse
Sheep
Monkey
Chicken
Dog
Pig
1900
1912
1924
1936
1948
1960
1972
1984
1996
2008
1901
1913
1925
1937
1949
1961
1973
1985
1997
2009
1902
1914
1926
1938
1950
1962
1974
1986
1998
2010
1903
1915
1927
1939
1951
1963
1975
1987
1999
2011
1904
1916
1928
1940
1952
1964
1976
1988
2000
2012
1905
1917
1929
1941
1953
1965
1977
1989
2001
2013
1906
1918
1930
1942
1954
1966
1978
1990
2002
2014
1907
1919
1931
1943
1955
1967
1979
1991
2003
2015
1908
1920
1932
1944
1956
1968
1980
1992
2004
2016
1909
1921
1933
1945
1957
1969
1981
1993
2005
2017
1910
1922
1934
1946
1958
1970
1982
1994
2006
2018
1911
1923
1935
1947
1959
1971
1983
1995
2007
2019
More Accurate Prediction in 2014 Chinese Five Element Astrology
Since the prediction of Chinese Zodiac is based on Chinese constellations, which are different from modern constellations, many positions of stars today have moved far away from Chinese ancient time's positions. That means some predictions on some stars are losing accuracy. Around

Tang Dynasty (618 A.D.), Chinese astrology moved the center point of the sky to the Sun to develop new prediction system without using any distant stars. Since that time, the Chinese astrology prediction began to use the zodiac sign of people's Birth DAY to represent the person. (Chinese use same Chinese character

for day and sun.) This chance made a breakthrough into a higher prediction accuracy. More than 2000 years later, today Chinese professional astrologers keep using the same theory to tell people's fortune. We provide the same method for Internet users. Please try our 2014 Chinese Astrology - Year of Horse, Five Element Chinese Astrology, Daily Chinese Horoscope and enjoy them.
2014 Chinese Five Element Astrology - Year of Horse
Chinese Astrology for Royal Baby Prince George
---
Yearly Chinese Astrology Major Cycles Astrology


Chinese Fortune Angel
tells your lucky elements and lucky animals

Home of Chinese Astrology Online