Master Tsai - Chinese Astrology Online
Chinese Astrology Online focuses on Chinese Five Element, Four-Pillar, and Ba-Zi Astrology. All Chinese Zodiac signs, Rat, Ox, Tiger, Rabbit, Dragon, Snake, Horse, Sheep, Monkey, Chicken, Dog, and Pig, 12 Chinese Zodiac signs can be converted into Five Elements. We use the relationships among Metal, Water, Wood, Fire, and Earth to accurately predict your future. We also include very informative Feng Shui Flying Stars to show you how to lift up your fortune in the rest of your life.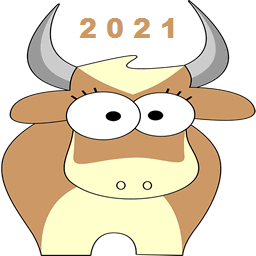 2021 is the Year of the Metal Ox. The first day of the 2021 Chinese Astrology Metal Ox year is on February 3, 2021, at China timezone. This day is different from the Chinese New Year Day, February 12, 2021. It's the 4718th Chinese Year. Chinese Lunar New Year is from the Chinese lunar calendar. Chinese Zodiac Calendar is from the stem-branch calendar, which is the solar calendar.
The foundation of Chinese Astrology is from Yin Yang and Five Elements, which are Metal, Water, Wood, Fire, and Earth. All Chinese Zodiac signs, Rat, Ox, Tiger, Rabbit, Dragon, Snake, Horse, Sheep, Monkey, Chicken, Dog, and Pig, 12 Chinese Zodiac signs can be converted into Five Elements. We analyze the mutual relationships of the Five Elements to predict people's fortune.
The Ox is in the Earth group. It also contains some Metal and Water. In Chinese Five Elements, The color of Metal is White or golden. Therefore, 2021 is also called Golden Ox or White Ox Year. Gold is a precious metal; It's an icon of prosperity. People whose Lucky Element is Metal will have a good fortune and wealth in 2021.
2021 Five Element Chinese Astrology - Year of the Ox
2021 Chinese Feng Shui Purple White Flying Stars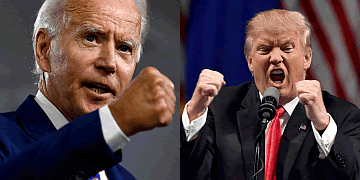 Former vice president Joe Biden is the Democratic presidential candidate to challenge President Trump in the 2020 US presidential race. Joe Biden is leading the presidential election polls in September. Can Joe Biden win the presidential race in November?
2020 is the year of Metal Rat, which is a strong Water year. Water is an unlucky element to Donald Trump. 2020 is not a good year for Donald Trump. He encountered impeachment, CoVid-19 pandemic, CoVid-19 deaths, China trade war, unemployment, business reopening and school reopening, black lives matter, police brutality, etc. During the 10-Year Major Cycle of Metal Rat, 2003 to 2012, Donald Trump had filed Chapter 11 bankruptcies for three businesses. But he always can find a way to recover his reputation. Fire and Earth are Donald Trump's Lucky Elements. October 2020 is the Fire Dog Month. The Dog is in the Earth group. He can bring up the momentum of the Donald Trump companion to the peak in the Dog month. November 3, 2020, is under the Fire Dog Month. Will Trump be re-elected in 2020?
We need your correct birthday and birth time to predict your fortune using the balance theory of the Chinese Five Element Astrology. The
Balance Chart of Five Elements
reveals the up and down of your life. We tell you how to improve your fortune for free by using your
Lucky Element
. If you know Your Lucky Element, then you will know when your fortune arrives...
We know Feng Shui energy (Chi or airflow) brings people good fortune. How can we know where those good Feng Shui energies are? The
Purple White Flying Stars
tell us all the answers. To take the advantage of the Feng Shui, we need to know we are Feng Shui Eastern-Four people or Western-Four people.
Eastern-Four people must love in the Eastern-Four house
. Western-Four people must love in the Western-Four house. Then the house will empower you with good energy and bring you good luck...
Chinese Palm Reading or Palmistry is a part of the Chinese Five Element theory. It can predict people's fortune, career, longevity, and marriage. To make it simple, we directly tell you where your Life line, Wisdom line, Wealth line, Health Line, Love Line, and Career Line are. So you can simply foretell people's future and personalities. We also provide a chart of
Chinese Facial Mole Reading
. It's very handy when you meet someone who has an outstanding mole on the face...
Many people are learning Five Elements, Chinese Astrology, Chinese Acupuncture, or Chinese Medicine. They order the Fortune Angel Chinese Astrology software to get the information of daily, monthly, and yearly Five Elements. Some study their Chinese astrology birth charts in depth. Chinese Farmer's Calendar software is a Chinese Almanac for 24 different timezones from 1900 to 2200. Many people order Chinese Farmer's Calendar to choose the auspicious wedding day or study the Purple White Flying Stars...
The Chinese Baby Gender Prediction is based on the Chinese statistic chart of the Ching Dynasty. Some women who want to choose a baby boy for their next child are interested in this chart. This chart is a cross-reference table between the pregnancy month and the woman's Chinese age. Our Baby Gender Prediction tool does the Chinese lunar calendar and Chinese age conversion. it will give you the baby gender by entering the woman's birthday and the conception month of the Gregorian Calendar.
Many people face an extreme challenge in 2020 and since the coronavirus pandemic COVID-19. It's been more than 20 years Master Tsai at chineseastrologyonline.com still answer your questions for free. Contact Master Tsai @ Chinese Astrology Online