Daily Flying Star Nine-Palace Diagram
Daily Flying Star calendar is tied up with Chinese Astrology Stem-Branch Calendar. The Stem-Branch calendar is a cylce of 60 using Yin-Yang Five Element and 12 zodiac signs. The first Stem-Branch is Wooden Rat and the last Stem-Branch is the Water Pig. The sequence of the Daily Purple Flying Stars is extremely complicate and difficult to calculate without computing. Feng Shui people use Daily Flying Star calendar to look for an auspicious day for special events.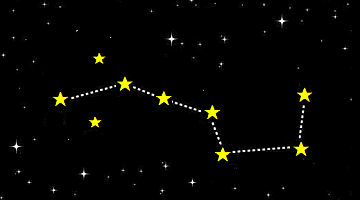 Purple White Flying Stars are Purple 9, White 8, Red7, White 6, Yellow 5, Green 4, Green 3, Black 2, and White 1. The Purple White Flying Star calendar is completely connected to the Chinese astrology Stem-Branch calendar. The sequence of Daily Flying Stars is in chronological order from Winter Solstice to Winter Summer. It's in reverse chronological order from Summer Solstice to Winter Solstice. The 10 Stems of Chinese Astrology Calendar are Yin-Yang Five Elements, which are Metal, Water, Wood, Fire, and Earth. The 12 Branches are 12 Chinese Zodiac signs, which are Rat, Cow, Tiger, Rabbit, Dragon, Snake, Horse, Sheep. Monkey, Chicken, Dog, and Pig. The rules to determine the Daily Flying Star are in the following.
The Wooden Rat day during Winter Solstice to Start of Spring is White 1.
The Wooden Rat day during Rain Water to Clear and Bright is Red 7.
The Wooden Rat day during Grain Rains to Grain in Ear is Red 7.
The Wooden Rat day during Summer Solstice to Start of Autumn is Red 7.
The Wooden Rat day during Still Hot to Cold Dew is Red 7.
The Wooden Rat day during Frost Descends to Heavy Snow is Red 7.
You can query daily Purple White Flying Star diagrams using the following form. basically, you just need to enter a calednar date. This application will give you
The Yearly Flying Star Diagram
The Monthly Flying Star Diagram
The Daily Flying Star Diagram
List Monthly Flying Stars Nine-Palace Diagrams
Check Yearly Flying Stars, Nine-Palace Digram, and Bedrooms
---